It's Complicated: The Relationship between Millennials and Credit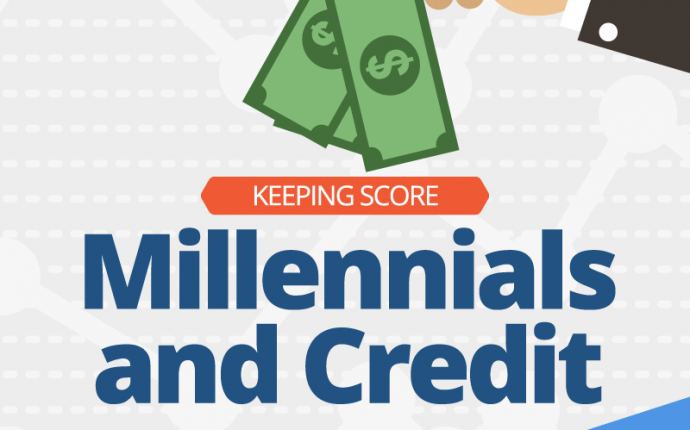 Millennials have made their mark on mainstream culture, but what about when it comes to personal finance? See what effects an increase in higher education, waiting to start a family and technology have all had on America's largest generation.

An overview of the generation causing all the buzz
Millennials outnumber Baby Boomers by 15 million
Generation Z: 23 million
Millennials: 92 million
Gen X: 61 million
Baby Boomers: 77 million
They like pocket-sized banking
– 80% of millennials access their financial institutions on their phones
On average, American Millennials make $20,000 less than the U.S. Average ($30,000 v. $50,000)

Borrow from $2,000 to $35,000*
Fast Approval. Funds Direct Deposited. No office visit or faxing required. A fixed rate loan without any additional fees upon early repayment.
Check Your Rate
The Millennial Credit Portfolio
What kinds of credit are Millennials most likely to take out?
Credit Cards
– 27% of Millennials have opened credit card accounts
Student loans
– 24% of Millennials have taken out student loans
Car Loans
– 14% of Millennials have taken out auto loans
Mortgage
– 3% of Millennials have taken out a mortgage
Millennial Budgets
Where Millennial's cash flows
More Health, Wealth and Happiness
Organic food
Craft beer
Tattoos
Health/Wellness
Sharing services (e.g. Uber)
Less Playing House
Homes
Cars
Wedding
Children
Where Millennials stack up against the U.S. Credit Score
Average U.S. Credit Score: 695
Age: 19 to 34 had a 625 average credit score
Average debt (including mortgages) $52,120
Bankcard balance overage $3,403
Credit utilization 43%
Why Millennials scores aren't as high as previous generations
– Spending after consolidating debt: 23% of Millennials would consolidate their debt to spend more money
– Loan use: 29% of Millennials would take out a personal loan for a vacation or wedding
– Lack of credit awareness: only 48% of Millennials are aware of their credit score
– Underemployment:20% of degree-holding Millennials earn less than $25,000
– Lack of investment: In 2014, only 38.6% of millennials held equity in stock
The Millennial Credit First Aid Kit
– Diversify credit
– Reduce credit utilization below 30% of total credit available
– Understand and check credit score
– Avoid collections and pay bills on time
– Keep low credit card balances
– Apply for open credit only when needed
Sources:
[1] https://www.fico.com/en/node/8140?file=8406 (Options and Opportunities: Foraging Lasting Banking Relationships with Millennials)
[2] https://www.bankrate.com/finance/credit-cards/more-Millennials-say-no-to-credit-cards-1.aspx (More Millennials say 'no' to credit cards)
[3] https://www.creditkarma.com/trends/age (Credit Trends)
[4] https://www.cnbc.com/2015/09/02/know-about-credit-cards.html (What Millennials don't know about credit cards)
[5]https://www.experian.com/assets/consumer-education-content/images/credit-then-and-now-infographic-f.pdf?WT.srch=PR_CIS_Millennials_20150730_pressrelease_CreditThenNow (Millennials vs. Gen X)
[6] https://www.cutimes.com/2015/07/30/Millennials-build-credit-with-auto-loans-experian (Millennials Build Credit with Auto Loans: Experian)
[7] https://www.goldmansachs.com/our-thinking/pages/Millennials/index.html (Millennials: Coming of Age)
[8] https://cdn2.hubspot.net/hub/55706/file-600316645-pdf/Flyers/The_Millennial_Shift_Study_Flyer.pdf (The Millennial Shift: Financial Services and the Digital Generation)
[9] https://www.slate.com/blogs/moneybox/2014/12/08/broke_millennials_the_decline_of_young_adult_incomes_since_the_recession.html (How Broke Are Millennials? This Broke.)
[10] https://thefinancialbrand.com/49848/millennial-geny-digital-payments-banking-communication/ (8 Astonishing Facts Bankers Should Know About Millennials)
[11] https://time.com/money/3979425/millennials-consumers-boomers-gen-x/ (10 Things Millennials Buy Far More Often Than Everyone Else)
[12] https://time.com/money/2820241/10-things-millennials-wont-shell-out-for/ (10 Things Millennials Won't Spend Money on)
[13] https://www.thefiscaltimes.com/2015/10/06/Here-s-Why-Millennials-Have-Lowest-Credit-Scores (Here's Why Millennials have the Lowest Credit Score)
[14] https://assets.nerdwallet.com/blog/wp-content/uploads/2015/09/NerdWallet-Consumer-Credit-Card-Report-2015-Data-Pack-vFinal.pdf (2015 NerdWallet Consumer Credit Card Report)
[15] https://www.forbes.com/sites/ashleystahl/2015/05/11/the-5-4-unemployment-rate-means-nothing-for-millennials/ (The 5.4% Unemployment Rate Means Nothing For Millennials)
[16] https://www.prnewswire.com/news-releases/the-great-credit-divide-millennials-struggle-to-manage-their-credit-while-boomers-express-confidence-300154410.html (The Great Credit Divide: Millennials Struggle To Manage Their Credit While Boomers Express Confidence)