Every unique and talented Avantee is a co-creator of the Avant culture we love. We hope the @Avant series helps you get to know who we are, how we do what we do, and what it looks like to build your career at Avant.
Ashley (AJ) Johnson
Associate for Global Operations Training Strategy for the Training Team

Joined Avant in 2014
What's it like to work @Avant? We asked AJ for her take on our culture, and here's what she said:
1. How would you describe Avant's culture?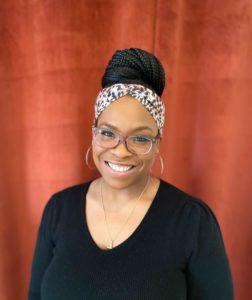 Our culture encourages innovation and empowers creativity. I'm the type of person who always needs to be learning—the moment I feel like I'm not learning anything, I'm bored. All of my leaders trust my input and insights and encourage me to try new things. I'm not saying that every idea turns out! But you're never penalized for an idea that doesn't work. We see it as a positive – you were willing to take a risk, you saw it through from start to finish, and you learned something along the way. That motivates me to keep trying.
Also, Avant is a collaborative culture that doesn't make you dim your light. There's a freedom to incorporate my personality into my work that has always excited me. It's amazing how we all shape the culture. There is a mutual respect that comes from knowing everyone brings something to the table.
2. Why are you happy/successful here?
I could go on and on about why I'm happy, but I'll keep it short and sweet: what keeps me happy is the people I work with and the opportunities I have to impact the business.
Everybody knows to reach out to me because I just enjoy helping people! I feel so fulfilled when someone says "Hey AJ, I need your insight"—and when they respond to my input with gratitude, I feel great. Hearing that I was able to help someone, make their day easier or brighter, keeps me going and makes me feel like I can make change happen.
We have so many ways to recognize people for the work they do, so many ways to pass along the support you receive. On top of our Town Hall awards and more formal recognition processes, I try to remind people to send a shoutout or give kudos to each other, too. These things make a difference, and they really keep me going strong.
3. What's a superpower you get to apply at your job?
My superpower is my strategic thought process. I have a unique ability to step outside the project, see the big picture, and take a different approach. I'm always asking, "how will xyz impact this group or that process? If we do it another way, what will shift? What process do we need to evolve to prepare each impacted group for this change?" I think through all the different scenarios and make sure the ball doesn't get dropped.
4. When you were little, what did you want to be when you grew up?
I wanted to be a lawyer. I've always been outspoken and inquisitive, and I question everything, but when I was growing up, I heard a lot of "I'm the authority, why do you need to know?" from adults. I would get myself into trouble! As I got older, I wanted to put those skills to use as a defense attorney, so I started studying political science…until I realized I was falling asleep in all those classes! I switched to psychology, but to this day, I still use many of the same techniques that would have served me as a lawyer—negotiation skills, research, backing myself up with facts. They come in handy!