Every unique and talented Avantee is a co-creator of the Avant culture we love. We hope the @Avant series helps you get to know who we are, how we do what we do, and what it looks like to build your career at Avant.
Corey Flood
VP, Treasurer on the Finance team
Joined Avant in 2015
What's it like to work @Avant? We asked Corey for his take on our culture, and here's what he said:
1. How would you describe Avant's culture?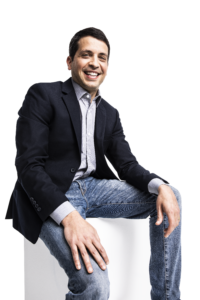 We're intellectually curious and have a culture of making mistakes and learning from them. People genuinely want to learn, and there are lots of opportunities to do so. We really support each other in that. You can try new things, new challenges, and you know that if you do make mistakes, the main thing that's gonna happen is we're gonna learn from them, adapt, and better position ourselves for the future. It's a safe place to get out of your comfort zone.
2. Why are you happy/successful here?
This is for sure the longest I've been at any job, because I keep finding new opportunities to grow. I started in June 2015 as a senior associate in the Treasury Department, and over the past 8 years, I have been challenged to take on new responsibilities and learn so much new stuff outside my area of expertise. I work with really good people, especially on my team in Treasury and Finance, and we are all making the smartest decisions we can. When something goes wrong, we see it as an opportunity to learn and do better, no pointing fingers. We know things will be okay and we'll all learn something.
3. At Avant, we talk a lot about our love of problem solving, taking initiative—the more technical or functional elements of our culture. What is the softer side, or the human side, of Avant like?
I think we all genuinely mean well, and we assume that others mean well. We see each other as human beings and that manifests itself in better outcomes as a company. As we've gotten bigger and more complex, the problems we are solving have also gotten bigger than any one person's contribution. We have to get together and coordinate, set aside some of our own priorities to achieve someone else's or help the company overall. Having that consciousness of 1) caring about other people and what they are trying to accomplish and 2) caring about the collective ahead of what might be easiest for you is something we do pretty well. Having that as a characteristic of our culture is super important.
5. If you were to describe who you are and not mention your work at all, what would you say?
I'm a family guy. I love what I do for work, but I live for my "real" life, my wife and my daughter. That's where I'm happiest. I'm also passionate about travel—when I think about what I'd want to be doing if the world were about to end, it's exploring. The moments when I feel the most at peace or at home are when I find myself in random places that I never imagined being in. We spend a lot of time traveling in Latin America—my wife is from Mexico City and I've learned Spanish over the years, and we're teaching our daughter Spanish at home.
One other thing: I don't follow sports at all, it's like a negative passion for me. And having started my career in finance, which can be very macho, sports is the main thing people talk about at the start of meetings. I've always been the one guy who doesn't have anything to add to that conversation, and the older I've gotten, the more I double down on that. I used to read the headlines and now I'm just like "yeah, I don't know anything about it and I have no idea what happened."
6. If you could go back and talk to yourself as you were going through the Avant hiring process, what do you know now that you would want to tell yourself then?
Try to find the right balance between building the expertise you need to do your job well and getting exposed to new opportunities that expand your skill set. That's something I've tried to do more of in the second half of my time here: talk to people more, understand other people's jobs more, and get a more holistic understanding of our bigger goal. So you want to build your own valuable expertise in your craft and go deep into your role, but make sure you balance that with taking the opportunity to open your eyes and learn from your peers. I didn't do enough of that the first 3 or 4 years I was here. It's one of the really cool things about Avant, seeing people try so many different things.
7. What's your favorite thing about the way your specific job role works on your team?
Something I really like about my job, in a nerdy way, is that my team makes sure we have funding for our business. We are a bridge between what investors want and need, what actually resonates with consumers, and what works for Avant financially. It's really cool being that team, and working with other teams who have a completely different set of expertise and problems to solve. Having a seat at that table has allowed my team to learn so much more about our customers, about our products, about the business. It's the most fun part of my job, weighing all these considerations from an investor and customer and company financial side and then making decisions on how to put it together. There's never a perfect answer, and the solution is a continually changing thing. That is super fun.
8. When you were little, what did you want to be when you grew up?
Funny enough, I wanted to be a hockey player. I grew up in a hockey family. Now, I want my kids to enjoy sports if they enjoy sports—it's not like I hate them, there's just so many other things I'd rather think about or watch!