Every unique and talented Avantee is a co-creator of the Avant culture we love. We hope the @Avant series helps you get to know who we are, how we do what we do, and what it looks like to build your career at Avant.
Ethan Feldman
ML Ops Engineer III on the ML Ops team
Joined Avant in 2021
What's it like to work @Avant? We asked Ethan for his take on our culture, and here's what he said:
1. How would you describe Avant's culture?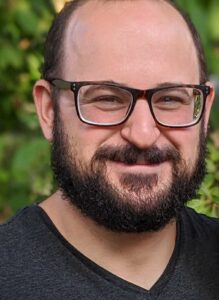 Avant is a very collaborative and hard-working environment. Everyone is interested in trying to move fast and achieve things, but we're working within this space that has a lot of diligence and oversight, so there's a little bit of give and take there. We do a lot of cross-functional work, and everyone is really interested in helping each other. We pick up whatever needs to be picked up and are ready to pivot and make changes based on what's important to Avant.
2. Why are you happy/successful here?
First and foremost, it's the people that I've gotten to work with. I feel very fortunate about the group that I've been a part of. People are genuinely interested in getting to know each other, and I feel comfortable showing up to work as myself. There's no competitive edge or trying to get ahead of each other. That's meaningful and I've always appreciated it a lot. I feel like I've had the support of the team members around me and that I could rely on them not just for work, but actually enjoy spending time with them, too.
The other thing is the work-life balance that I've found at Avant. Managers don't want people to feel overwhelmed, and they work to prioritize and focus so it's not like you're trying to do everything. The balance here has been really important to me.
I just have a general feeling that Avant is interested in investing in people, both in terms of giving them a balance of living their lives in the moment and also trying to work together on how to fit your goals for your career into what Avant is doing.
3. What's something Avant is really good at? What's something you'd like to see us get better at?
It's a little cliche, but the thing that came to mind for me that we're doing really well is investing in people. Avant really wants to see its employees be successful and meet their goals. If you're clear about what you're looking to learn and what opportunities you want to take on here, leadership makes an effort to support that.
For what we could improve on, two things came to mind. The first is around documentation. We have a ton of information about our processes, and trying to have a more centralized ability to get a holistic view, not just of what happens on your own team, would be beneficial. And similar to that, lately we have had some growing pains around competing priorities, going in new directions and then ultimately deciding to pull back. There are only so many things we can actually do, and it's tough to constantly pivot to new priorities. That's another thing that we could get better at.
4. If you had to describe who you are and not mention your work at all, what would you say?
I think of myself as a caring, curious, and creative person. My background is a little unorthodox and I think I bring that perspective with me. I'm a former high school math teacher and I also spent time working as a brewer at a small brewery in Chicago. I don't really tie what I do for work into my identity—it's more that I try to think about who I am as a person, and then I show up to work as that person.
5. What's a superpower that you get to apply at your job?
This one comes back to my background in teaching. I have been in a lot of conversations and meetings in my life where it's clear to me that there's a disconnect happening, where one person is asking a question and someone else just doesn't get the question that's being asked, so they don't answer it in a way that actually addresses it. The time I've spent teaching really helps me identify the root of the confusion. I can recognize when someone is trying to get at something that the rest of the room just can't see.
8. When you were little, what did you want to be when you grew up?
I spent a lot of my life thinking I was just going to do math, and going down the path of teaching from the get-go. I guess when I was really little, it was some kind of basketball or baseball player, but otherwise I've kind of always had the teaching bug.