Every unique and talented Avantee is a co-creator of the Avant culture we love. We hope the @Avant series helps you get to know who we are, how we do what we do, and what it looks like to build your career at Avant.
Jaitika Singh
Associate for the Loan Team

Joined Avant in 2019
What's it like to work @Avant? We asked Jaitika for her take on our culture, and here's what she said:
1. How would you describe Avant's culture?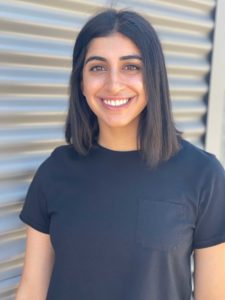 Nimble. Accepting. Challenging, definitely. And we don't have a strict structure, either vertically or horizontally, and we're definitely not siloed. Like, I have regular conversations with our Head of Loan, and that isn't a given for someone at my level. And you really get the chance to create relationships with people on other teams.
Everybody's voice gets heard. If you see an opportunity, regardless of your title or your rank, you have the chance to take it. If you see a problem, you've got the chance to fix it. It makes your work a lot more meaningful. No matter what your title is, people are willing to listen, and if you put the work in, there are opportunities, which is really great.
2. Why are you happy/successful here?
I am happy here because I'm heard, and because I take the opportunity to be heard, I do voice my opinion. You are given the tools, and if you're willing to take them and run with them, the possibilities are endless. Right now, I'm leading the front-end strategy for a new product (I was as an analyst, too, before I was promoted) and that was definitely a big undertaking. I got a few "Are you ready for this?" And I said "Yeah, bring it on!" That challenge is what makes me happy.
I came from consulting. The stereotype around "office jobs" is that you're doing the same thing all day, every day, nothing challenging, nothing exciting. At other companies, an analyst or senior analyst is responsible for scrubbing the data and presenting it to a manager, who then creates the strategy. But the end goal is to use the data to create the strategy, and we are given the opportunity to do that now, so that when we're in those more seasoned positions, we have experience already.
If you want to make your role exciting at Avant, you are definitely given that opportunity and will not be bored. You have the ability to make your role as challenging and as mentally stimulating as you want it to be.
3. How is who you are and your identity welcomed and included at Avant?
I used to be the only woman on the Loan team. It was me and 11 men. Not great. But I spoke up and said that we needed more female representation on our team, and the Head of Loan not only listened, he hired a female leader. She's a really, really great fit for the role, and having her voice on the team has been incredibly helpful. It's pushing me to speak up more as well.
This experience showed me that at Avant, my feedback resulted in action. Leadership was so receptive and really made me feel heard. We still don't have all the female leadership I'd like to see, but we're getting there. And it's not just on my team – I loved the DE&I Committee's Women Leaders panel discussion last year, where we got to hear women leaders from around the company share their experiences and what they've learned. It was really great to hear female perspectives from Avant. All that has been a really positive change.
4. When you were little, what did you want to be when you grew up?
Oh, I wanted to be a pop star. 100%. I had the pink, I had the glitter, I couldn't get enough of it. I was going to be front-and-center. Then I realized I'm an introvert and I can't sing! A few minor roadblocks.