Every unique and talented Avantee is a co-creator of the Avant culture we love. We hope the @Avant series helps you get to know who we are, how we do what we do, and what it looks like to build your career at Avant.
Jeremy Shefer
Senior Software Engineer on the Money Movement Team
Joined Avant in 2021
What's it like to work @Avant? We asked Jeremy for his take on our culture, and here's what he said:
1. How would you describe Avant's culture?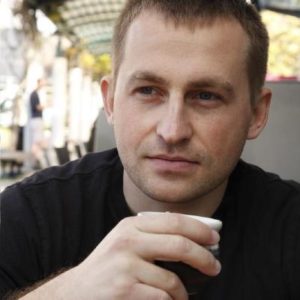 I've been working here for about a year and a half, and I started on one team and I've ended up on another—I kept the same boss, the same people, but switched to a different technology, different everything, all without losing speed or our commitment to getting things done. It was a massive, epic transition for the team! And there were a couple weeks of difficulty while we figured it out, but for the most part we didn't miss a beat. So I would describe Avant as "brisk" and "ductile." Brisk because we move at a brisk pace. And "ductile" refers to a metal's ability to bend and change shape without breaking. It's true about the company, and especially about our team.
2. Why are you happy/successful here?
We're a financial company, and while we are no longer a small scrappy startup, Avant still has enough of that flex in us that it helps to be able to wear a few hats. This isn't a place where you're like, "I've been doing the same thing for 10 years, let me go do the same thing for 10 more." It's a place where people are still very much looking to do something different, something interesting, without the rigidity that you might find at other companies. You can take your career in a slightly new direction. For me, even though I'm a software engineer now, I studied business in school and always really liked economics and finance. It's great to get to combine my interests.
3. What's a superpower you get to apply at your job?
My joke superpower is the ability to look at a computer screen all day long without my eyes tiring out—someone told me it's the main requirement to being a good software engineer. On a serious note though, having the mind of both a businessman and a programmer allows me to focus on writing code with a keen eye on business needs. That way, I don't waste time on areas that might be cool technologically but don't have business benefit. That's the superpower I got by meshing the two skill sets together.
4. If you had to describe who you are and not mention your work at all, what would you say?
I would describe myself in terms of my values, which are ethics, education, and exploration. The three balance each other out. Ethics sets the limits on how you want to operate, which is something I care about a lot. Exploration pushes me to go in new directions and see what's out there within the bounds of my ethics. And then education allows for the knowledge of where I can push my boundaries. Those three encapsulate well how I operate.
5. When you were little, what did you want to be when you grew up?
The school assessment told me to be a firefighter. I really did not want to be a firefighter, but in a weird way, being a software engineer does have me putting out fires. So maybe I did end up being a version of a firefighter.