Every unique and talented Avantee is a co-creator of the Avant culture we love. We hope the @Avant series helps you get to know who we are, how we do what we do, and what it looks like to build your career at Avant.
Loren Andersen
Director of Servicing Strategy on the Operations Strategy Team

Joined Avant in 2013
What's it like to work @Avant? We asked Loren for his take on our culture, and here's what he said:
1. How would you describe Avant's culture?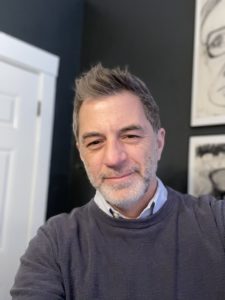 Our culture is open, fast-paced, and growth-minded. Since the early days, we've believed that ideas can come from anywhere and anyone, and your input is valued, no matter your level. An example: every month, the heads of our product teams meet with the call center representatives from our customer service teams, to hear what they're seeing from customers and what they're struggling to deal with. Then, in the next month's meeting, we share back what we learned and how we're dealing with the issues, and see if things have improved. That feels unique to our culture. People feel like their voices are heard. Anyone from anywhere can say "this isn't working" and changes are going to happen.
Thinking about growth—Avant's growth mindset is not a slow growth mindset. There's always going to be a certain amount of ambiguity, because that's how we maintain our fast growth. A bank might take 3 years to roll something out, where we'll take 9 months to do the same thing. We are agile. But upskilling and learning are very much encouraged here, and opportunities are readily available. Everyone is willing to help each other learn. I hope that's something we can retain culturally, no matter how big we get someday.
There's humility in all of this. We know we don't know everything. Nobody is so proud that they can't accept input. Or another way to put it: it's empowering to know you've got the space to evolve.
2. Why are you happy/successful here?
In my years at Avant, I've owned 9 or 10 different functions, and that has forced me out of my comfort zone many times, in a good way. Here, we trust people to dive in and learn—you don't have to walk in the door an expert. That has allowed me to grow my expertise around all things operations strategy at a rapid pace, to gain more responsibility and to grow in my career. Anybody can do that here, if they want to. Avant has a ton of really smart and talented people who are willing to lift each other up and help each other succeed.
A couple months ago, I transitioned to a new role. We were actually trying to hire someone for it, and I was like, you know what, I have enough knowledge to do this. I'm not super comfortable doing it, but I'm as qualified or more so than someone we're going to hire externally. So I put my hat in the ring, and I told my boss that I think I can do this. And now, I am.
If you're comfortable stepping into something where the role itself isn't perfectly defined at the start, and it's going to evolve over time, and you have a hand in defining it, then this is the place for you. I love that I have the autonomy to find what that evolution looks like and make my own road, and that other people are doing the same thing.
3. What's your favorite thing about the way your specific job role works?
I am trusted to determine what's in scope, to prioritize projects and allocate resources, and to define my work. I have the autonomy to take action and move on things with little to no bureaucracy. I can bring things full circle, define how we solve problems and then implement the solutions, measure effectiveness, and do all of it with minimal red tape.
Having to define your own role can be a double edged sword. But if I had to choose, I like the fact that I'm able to work with the other business units to figure out exactly what my team should own, get upskilled on it, and then go forward without a whole lot of back and forth.
4. When you were little, what did you want to be when you grew up?
The first job I ever wanted to do as a kid was a shoe salesman. Back when I grew up, you'd go to the shoe store and they'd bring the boxes out to you, and those stores always smelled so good. That's the first one I remember. That or baseball player!