Every unique and talented Avantee is a co-creator of the Avant culture we love. We hope the @Avant series helps you get to know who we are, how we do what we do, and what it looks like to build your career at Avant.
Margaret Hermes
Formerly Chief People Officer and Interim General Counsel, now Chief Operations Officer (as of 2022)
Joined Avant in 2019
What's it like to work @Avant? We asked Margaret for her take on our culture, and here's what her said:
1. How would you describe Avant's culture?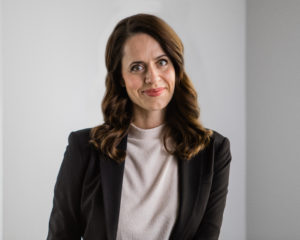 I love this question and I think about it every day. And as a leadership team, we spent a lot of 2021 focusing on our culture, trying to figure out whether or not we were really living our values. We did surveys and brainstorms and exercises about it, which ultimately led us to create a new articulation of our values. And I love what we came up with.
I think the new values capture the absolute best parts of our culture, the behaviors that make Avant great. Authenticity, Collaboration, Problem Solving, Customer Focus, and Initiative—and they are all interconnected. They work together to drive our culture. I see elements of them whenever I read this blog, in the ways people describe what they love about working here. That consistency is really cool. So, I think that the best way to describe our culture is our values in action.
2. Why are you happy/successful here?
Number 1, the People Team is the best. I love working with our team. I feel like we just have fun being around one another and getting to know each other as individuals. I really like hearing about everyone's personal lives, the things we did on the weekend, cheering on when people get married or go on a really fun vacation or their kid does something cool. I love our team.
Number 2, one of the reasons that I joined Avant initially is that the leadership team considers people strategy to be absolutely critical to driving business outcomes. Which means, as the leader of the People Team, I get a seat at the table. Not only that—what's even better is that my seat at the table doesn't just extend to people-related decisions. Basically, the way that our executive team operates is that if you're at the table, you are expected to provide your input on everything that's discussed. So I have an opportunity to contribute to all facets of Avant's strategy. And certainly, I tend to come at an issue with a people lens, but my job is so fun because I'm not just limited to the world of HR.
3. What's a superpower that you get to apply to your job?
A fun fact about me: I went to a sleepover camp in Wisconsin in the mid-90s, and they did superlatives. I very, very distinctly remember that my superlative in 1995 was "best storyteller." Storytelling is a superpower that I get to bring to my job every day. Whether or not that is connecting the dots between slides in a deck to tell a strategic story, or talking to a prospective job candidate and telling the story of our culture, or helping our team tell stories about the amazing Avantees who work here, it is my absolute favorite thing to do. 
We do a lot of really interesting work, and we deal with a lot of data. It's all more meaningful when we can bring it to life. That is my superpower.
4. If you had to describe who you are and not mention your work at all, what would you say?
I made a list for this one:
Mom to a boss 6-year-old daughter
Wife to somebody who is my opposite in all positive ways
Avid audiobook listener
Champion of all restaurants in the Logan Square neighborhood of Chicago
Very, very slow runner
Extravert and night owl
5. When you were little, what did you want to be when you grew up?
The first things I can remember wanting to be are an Olympic swimmer and a mom. I soon learned that I didn't have the athletic prowess to achieve Olympic level glory, so I went to law school instead. But, I am a mom! And I would take being a mom over being an Olympic athlete any day of the week.