Every unique and talented Avantee is a co-creator of the Avant culture we love. We hope the @Avant series helps you get to know who we are, how we do what we do, and what it looks like to build your career at Avant.
Sam Funk
Machine Learning Operations Manager (formerly Senior Engineer) on the Machine Learning Operations Team

Joined Avant in 2018
What's it like to work @Avant? We asked Sam for his take on our culture, and here's what he said:
1. How would you describe Avant's culture?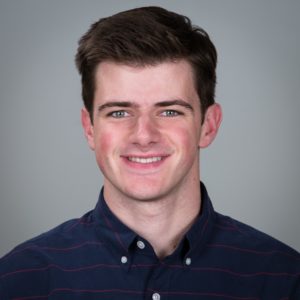 We are inquisitive, prudent problem-solvers. We're very design-focused and interested in working on complex challenges. And we always have an eye towards the future—ultimately, we're thinking about how we can scale, how we can grow, how we can better ourselves. Sometimes we mess up, of course, but it always comes back to, how can we improve our design, our products, our processes? We don't want to get stuck in a single way of doing things.
As a medium-sized company, Avant is interesting. We're not like a big investment bank where it's super cutthroat, but we're also big enough where you're not just trying to keep your head above water. We operate in a space where we're lean enough to be able to trust and rely on one another.
2. Why are you happy/successful here?
I'm able to constantly work on very interesting problems—I've never really been bored here, and I've really enjoyed a lot of the larger projects I've worked on. On my team, we try to stay up to date on the cutting-edge technologies and techniques that we can use for data science and machine learning, which is really interesting. We don't want to get locked into one way of doing things. So to sum it up, I'm happy here because I've been able to solve very interesting, complex problems using some of the most up-to-date cutting-edge technology.
And then—kind of a cliche answer—but it's also the people. My role is mostly engineering, but I interact with data scientists, data people, product people as we roll things out. We are very like-minded, in an intellectual curiosity sense. Our work ethic, too. I have enjoyed those relationships a lot.
3. What's a superpower that you get to apply at your job?
In my 4 years here, I've worked on and even helped create many of the services that the entire company uses. So people come to me when they have questions. My superpower is that I can easily identify what problems they're having and steer them in the right direction. I can see both very broadly and very precisely into these different pieces of technology that a lot of people rely on and help them find a solution.
4. If you had to describe who you are and not mention your work at all, what would you say?
I love to laugh, and I love to make people laugh. My sense of humor is goofy and cynical. A lot of sarcasm. And I'm not afraid to do an accent or an impression here and there. I'm really an extroverted introvert.
5. When you were little, what did you want to be when you grew up?
Kind of weird and nerdy, but I always liked streams. Like, seeing how streams meander. So I thought I wanted to be a civil engineer or something that involved water and large civil projects. That, or some other kind of engineer. I always liked tinkering around when I was younger.