Every unique and talented Avantee is a co-creator of the Avant culture we love. We hope the @Avant series helps you get to know who we are, how we do what we do, and what it looks like to build your career at Avant.
Sanket Shah
Manager on the Credit Card Risk team
Joined Avant in 2021
What's it like to work @Avant? We asked Sanket for his take on our culture, and here's what he said:
1. How would you describe Avant's culture?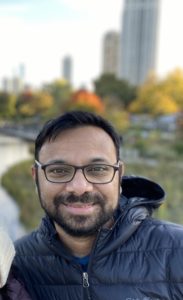 Avant is very open and results-oriented. We encourage each other to think outside the box and look for solutions. In our culture, we help each other when we get stuck moving on to the next step. We push each other towards our goals, and then celebrate our successes. We're good at recognizing each other's achievements, like when we help launch a new product. We put so much hard work into trying something we've never done before, and everyone brings their own ideas. It's such a collective effort. There are opportunities and obstacles and so many teams come together to help each other push through, and then celebrate.
2. Why are you happy/successful here?
A key to my happiness is the people. The people I'm working with are close, and no matter what we're working on or what's going on in our lives, we can share that with each other. Another key is work-life balance. Avant is great about that, which makes me feel happier. And in the end, it all connects together. We help each other and make sure nobody gets stuck, so I know things are getting done. If I'm doing something and I'm taking it forward, I know everyone else is working toward that goal, too.
Our approach is that wherever you are going, do your best. Things will always fall into place if you do. Avant does more than the bare minimum of just removing obstacles in your way, they actually support you in being able to do your best. And if you give 100%, you will get back more than 100% in return. That's something I think we can all be grateful for.
3. What's a superpower that you get to apply at your job?
I think my superpower is self-motivation and the freedom to express myself in the most positive way. That helps me keep going and brings energy with me to whatever I'm doing. It gives me clarity in my thoughts and tells me what my next steps are and any plans I have to make. And if any challenges come up, it helps me react to that.
4. If you had to describe who you are and not mention your work at all, what would you say?
I have the same personality at work and outside work. I am kind of a part-time philosopher, part-time religious, very humorous. I like to ask, what is life? and try to see the humor in everything that is happening around me. I try to be that person, whether I'm with my colleagues or outside work with my friends. I'm also a dog lover! I don't have my own dog, but my friend has one and he gets very excited to meet me, and that really energizes me too.
5. When you were little, what did you want to be when you grew up?
I always wanted to be a surgeon. My dad is a doctor, and my whole life I was surrounded by dad's doctor friends. Hospitals, the operation theater, I was always fascinated by it. But when I grew up and saw the different choices I could make (and then I didn't do as well on my entrance exams), I thought life was sending me in a different direction. And that led me to something else that I really enjoy.