Every unique and talented Avantee is a co-creator of the Avant culture we love. We hope the @Avant series helps you get to know who we are, how we do what we do, and what it looks like to build your career at Avant.
Tehseen Hussain
Senior Manager (as of 2023, formerly Manager)
for Infrastructure on the DevOps Team
Joined Avant in 2019
What's it like to work @Avant? We asked Tehseen for his take on our culture, and here's what he said:
1. How would you describe Avant's culture?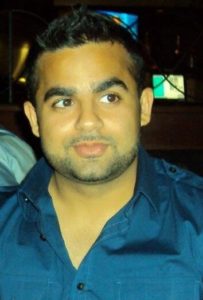 Avant's culture is very open. Open to ideas, open to criticism, open to feedback. It's easy to give and receive feedback, to take time off, to move around within the company. In the Tech org, we like to try out new technologies that pop up. Voices are heard, questions are welcome, and mentoring is key. I'm a newer manager, just since 2021, and in learning what goes into becoming a manager, I've been able to ask a lot of questions and get a lot of tools to help me. I've had the ability to explore how I want to manage.
We have none of that micromanaging style here. We like to let people go and see what they do. Trust is part of it—the people we hire are very much about completing what they've been given. When you see people delivering on expectations, it builds the trust you need to allow them to explore and expand their horizons. That has been a key thing in our culture, and something I always mention in interviews. If you come to me and say, "hey, I want to do a little bit of coding, or networking, or I want to learn this new thing," I'll tell you, "okay. Here's someone who's already doing it, work with them and learn that skill."
2. Why are you happy/successful here?
Having the opportunity to work on many different things and with many different people has been key. I've been using this technology for infrastructure for almost 20 years now. More than other places that I've been, Avant allows me to use what I've learned to do the work I want to do. If I want to go and deploy something that aligns with what Avant needs, I can do that.
My team sits between many different teams—Data, IT, Backend Engineering, Front-end Engineering, and I also work on the Credit Card team. I enjoy what I do. I enjoy the people, I enjoy the work. When people contact me, they're cheery and thankful for the time my team has spent on something. We work quickly and efficiently, which is how I like to work. Other companies might take 3 months to deploy something that we can do in 24 hours. We like to work efficiently.
3. What's your favorite thing about the way your specific job role works?
I work with a lot of different people, and I really enjoy being able to assist many people. Being able to help.
An example from yesterday – I was helping one of the data engineers with a function in AWS. We worked for about 30 minutes to figure out what was wrong with his function, and we were able to figure it out. That is my favorite thing—being able to work with other teams around the organization. And even on my team, we have many different types of roles. DevOps engineers, cloud engineers, data engineers. We dabble in a lot of different spaces and I get to use the knowledge I've learned over the years to help others on the team, to mentor, things like that. That's a common thing here. People want to be helpful.
4. When you were little, what did you want to be when you grew up?
So this is a funny one. When I was younger, I was always fascinated by data centers. In today's world, data centers have kind of gone to the cloud—big companies own data centers, and they rent out space to other companies. But I wanted to run my own data center. Deploying servers, and basically managing and running the entire data center on my own.